Welcome

To

Maya

Family

Clinic
Experience compassionate care and comprehensive wellness services at Maya Family Clinic, dedicated to nurturing your family's health and happiness.
Personalized Wellness Services

For Your Family
Comprehensive medical services for all ages, ensuring your family's health and well-being.
General Health
At Maya Medical, we offer comprehensive general health services tailored to individuals at every stage of life. Led by Dr. Chirag Patel, our dedicated team aims to address your holistic health needs, providing personalized care rooted in expertise and compassion right here in Markham, Illinois.
Allergy Testing
Understanding the nuances of allergies is crucial to well-being. At Maya Medical, we offer specialized allergy testing to pinpoint triggers, allowing our patients to navigate daily life with confidence. Our team ensures you receive the best advice and treatments to mitigate symptoms and promote lasting relief.
Immigration Exams
Maya Medical is a trusted destination for thorough and respectful immigration examinations. Our certified medical practitioners ensure that all exams are conducted in compliance with requisite standards, facilitating a smooth immigration process and safeguarding your health.
Women's Care
Catering specifically to the unique health needs of women, Maya Medical provides comprehensive women's care services. From routine check-ups to specialized treatments, our experienced team offers compassionate care ensuring women feel supported at every life stage.
Geriatric Care
Senior health requires specialized attention. At Maya Medical, our geriatric care focuses on enhancing the quality of life for the elderly, offering treatments and check-ups tailored to the unique needs of aging individuals, ensuring they thrive in their golden years.
Pediatric Care
Children's health is paramount. Maya Medical's pediatric care is dedicated to nurturing the well-being of our youngest patients. From routine check-ups to specialized treatments, our team ensures your child receives the best care in a comfortable, child-friendly environment.
Hyperpigmentation Treatment
Maya Medical recognizes the impact of skin concerns on self-esteem. Our hyperpigmentation treatment services are designed to address uneven skin tones and dark spots, employing the latest techniques to rejuvenate and restore your skin's natural glow.
Laser Hair Removal
Offering a long-term solution to unwanted hair, Maya Medical's laser hair removal treatments are both safe and efficient. Harnessing state-of-the-art technology, our trained professionals ensure you achieve smoother, hair-free skin with minimal discomfort.
Plasma Skin Tightening
For those seeking a non-surgical approach to skin rejuvenation, Maya Medical introduces plasma skin tightening. This cutting-edge treatment helps combat signs of aging, reducing wrinkles and sagging to unveil a firmer, more youthful complexion.
Dr. Patel is a board certified family physician that has over 15 years of experience in his field. Our office also has highly trained nurse practitioners that patients can see for all their medical needs.​Our office includes a lab and pharmacy for patient convenience. Our services include adult, child and infant physicals, chronic disease management, and walk in care for common illnesses.
Our clinic is staffed by a team of highly skilled healthcare professionals who are committed to delivering quality medical care. Our experienced physicians, nurses, and support staff work collaboratively to provide a wide range of services, including primary care, preventive care, and specialized treatments.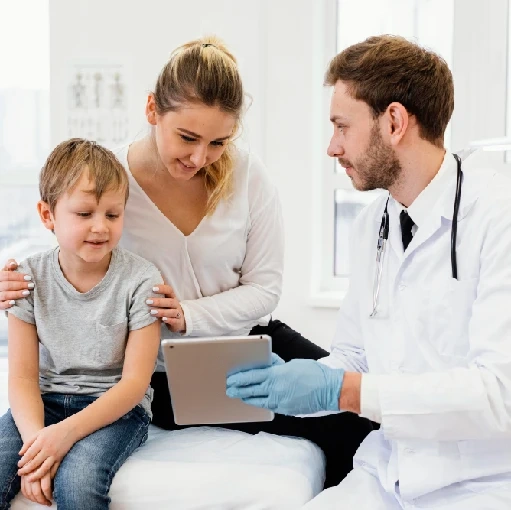 At Maya Family Clinic, we understand that choosing a healthcare provider is an important decision. Here's a brief description highlighting why you should choose us:
Patient-Centered Approach
We prioritize your needs and well-being above everything else.
Commitment to Excellence
At Maya Family Clinic, we are committed to delivering excellence in every aspect of our care.
Highly Skilled Professionals
Our clinic is staffed by a team of highly skilled healthcare.
Convenient and Accessible
We understand that convenience is essential when it comes to healthcare.
Comprehensive Services
We strive to create a supportive and friendly atmosphere.
Caring Environment
We believe in providing compassionate care in a warm and welcoming environment.
Discover what our patients have to say about their experiences at Maya Family Clinic.